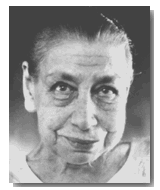 As a young girl growing up in Paris, where she was born in 1878 as Mirra Alfassa, MOTHER had a natural contact with and access to an invisible reality. Despite a very materialistic background, going out of her body, reliving scenes from past lives, or knowing things without ever having learned them before was as natural as breathing. Her studies of mathematics, music and painting did not offer any explanation for the strange experiences she was having, but they allowed her to know and befriend some of the great minds and artists of the time. In 1897, she married Henri Morisset, a pupil of Gustave Moreau.
The first practical clues to her inner life were given to her by Max Théon, a strange character and master occultist who, recognizing her gifts, invited her to his property of Tlemcen in Algeria to explore occultism. In 1914, a chance trip to the then French colony of Pondicherry in India led her to Sri Aurobindo, in whom she found not only the answers to all the experiences she had been having since her childhood, but also their deep significance for her future life. After a five-year stay in Japan, she returned to India and to Sri Aurobindo in 1920, never to leave again.
As disciples began gathering around Sri Aurobindo and Mother, the "Ashram" was formed and, in 1926, when Sri Aurobindo withdrew from public view to pursue the "Integral Yoga," he put her in charge of the material and spiritual needs of a growing population of sadhaks. After Sri Aurobindo's passing in 1950, she decided to continue his work at the roots of the human condition and, from 1962 to 1973, painstakingly uncovered, in her body, subtle mechanisms of the consciousness of the cells that may be the key to understanding the limitations of our physical life and to unlocking a new way of being in the body.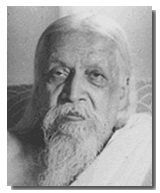 Born in 1872, in Calcutta, SRI AUROBINDO was sent at the age of seven to England for his education. Emerging from King's College in Cambridge at the age a twenty, he returned to India and began militating for the freedom of his country. After leaving the service of the Maharaja of Baroda and a teaching position at the local College, Sri Aurobindo founded and edited a political daily, the Bande Mataram, and soon emerged as a leader of the freedom movement against British rule. Suspected of a bombing attempt against the life of a British magistrate, he would spend a year in jail awaiting trial.
That year of forced isolation revolutionized the orientation of his life from an outward-directed focus to an inward-directed one. "It is not just a revolt against the British empire that we must wage, but a revolt against the whole universal Nature!" he exclaimed.
Acquitted but still pursued by the British police, he moved to French India, in Pondicherry, where he began the "yoga" in earnest, on a quest for a deeper understanding and true mastery of life. While disciples began gathering around him and the Mother, who had joined him in 1920, he withdrew into the solitude of his room in 1926 to devote himself more completely to his inner work.
Sri Aurobindo passed away in 1950, leaving a written work that comprises poetry, plays, philosophical essays, and an enormous body of letters about his work and yoga.